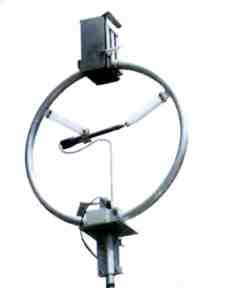 Forget my post about the MFJ-1788 loop. One day after ordering Wimo mailed me that the unit was not in stock and the re-supply was on the 21st of June or later. They offered a full-refund. I mailed back, asking if they could do anything with the price of the Baby loop. The aswer was no but the salesman mentioned that they had an upcoming discount starting on the 16th of June and I had to wait for that date. Not knowing what the discount was, I decided to keep the MFJ-1788 order open.
This week I had a look at there website and noticed they offered a 10% discount on all items plus free shipping for goods up to 200cm in lenght. Thats where I decided to cancel the MFJ-1788 loop and order a Baby loop. Yes, it's (way) more expensive but you'll get the 6,6-29,8 Mhz coverage while the MFJ stops at 21 Mhz. Thus the 12 and 10-meter bands are included.
Bigger plus it the automatic tuner. Just enter the frequency in the keypad and tuning is done in seconds. Then there is the building construction that looks way more robust than the MFJ. So you do get value for you money.
The Baby loop is produced by Ciro Mazzoni in Italy. The diameter is 1 meter instead of the 90cm MFJ offers. Besides that, the Baby Loops' tube has 50mm thickness that should give a beter radiation pattern, especially on the 40 meter band. Not even mentioning the maximum power is 250 Watts instead of 100, tough I only work QRP with 5 Watts or less.
Now waiting till my order is confirmed, the loop on stock and shipped towards me. I guess that will take another two weeks. When it's in, the results will be posted.