Though I still love my 1998 Icom IC-746 it's getting old and more and more I'm missing the 70cm band. I sold the Flex-3000 transceiver because I could not get used to missing the main dial. Though the filtering is more than perfect (And that's under-expressed!) it's just not my choice of transceiver.
Today I've ordered an Icom IC-9100. There are many devices out there but I really like these points:
Remote operation
Spending whole day in the office behind a screen makes you want to do something else now and then when you're sitting and have a moment where you're waiting. When using the Flex-3000 I did log in to my shack PC to do some JT65 operations. This suited me well and I made some nice QSO's which I normally woud not make. So this was a hard requirement. I've ordered the Icom RS-BA1 remote software. To bad there is no OSX client for the mac but Windows is still there as a virtual machine.
All-in-one
I'm not operating outside of home much. But if I do, I don't want to have restrictions of taking more than one transceiver with me. The Icom IC-9100 is a nice box having HF, VHF and UHF (SHF / 23cm optional) all in one. And D-star, but that's a nice to have. Don't really use it /portable either.
USB support
There are still manufacturers creating equipment with serial support. Hey guys, wake up. It's 2012. The last PC I've owned with native serial ports are gone since 2001. And no, I don't like crappy USB2Serial interfaces. Those only cause delays. You don't want to have that on your CAT interface.
Other nice to haves are satellite mode. Though i don't have much experience with it, the last 'satellite' was when I've worked the Mir in AX25 more than 10 years back. But still, could be nice to try it once. And I'm curious how this receiver (with the 6 and 3 Khz roofing filter) will behave compared to the 1998 Icom IC-746, especially in digital modes like JT65 and good old CW during crowded contests.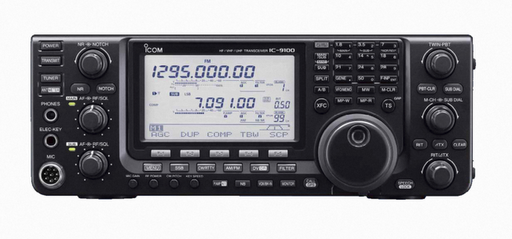 Markus, the owner of Hamshop.nl called me today to tell he will ship all the equipment (that includes a new Heil ProSet-IC, a new cable for the Microham MK2 keyer and some other stuff) by the end of the week. I don't think it will be in before the weekend, but I don't have the time to play with it anyway. A review will come eventually.
There is one dislike and that's the missing 4 meters band (70.000-70.500 Mhz). Though I'm not allowed to work there from home it was nice to listen over there. On the other hand I don't have an antenne for this but a dipole for the 4 meters band is made in minutes… Maybe I could build a converter during the coming winter season…