Today, the 1st monthly FT8 contest on 144.174 MHz was held. This contest will take place every 1st wednesday of the month between 17.00-20.00 GMT. On the 2nd wednesday of the month, the contest will be held on 432.174 MHz. Goal of this new contest is to promote (FT8) activity on the 144 and 432 MHz bands.
Participating is easy. Just make QSO's and send on your WSJT-X (build-in) logfile to the contestrobot on the VHFdx.ro website. No need to hassle with Cabrillo or EDI files, no hassle with VHF-EU contest mode. Just the normal FT8 mode like u use everyday.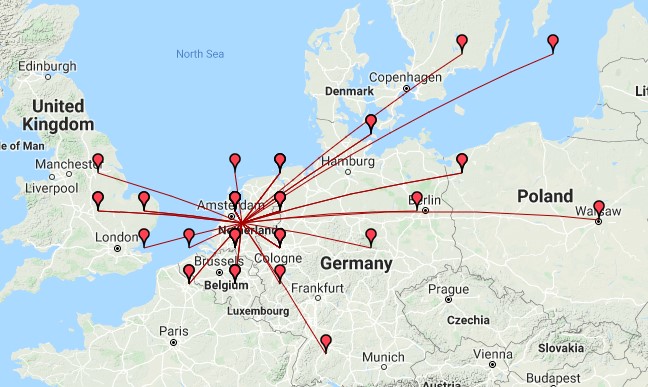 Having a look at the uploaded logs so far I seem to be the best participant throughout all of Europe. But 55 QSO's in 3 hours could be better. Time to change tactics for the next contest. I'll use a second transceiver and second WSJT-X instance. The second transceiver will use a vertikal antenne to work local stations that are also using a simple vertical antenna within 100 kilometers / 10 grid locators. I'll use the 9700 with beam to search for dx stations in other grid locators, since these count as multiplier. Only one transceiver will be in TX at any moment since contest rules forbid multiple transmissions (including fox/hound) the same time. If the propagation is good my goal is to work somewhere about 100 stations during these 3 hours.