For the last days I've enjoyed the tropospheric propagation. Stations in EA were easily workable on 144 and 432 MHz. Lot's of stations are active in FT8 these days on 144.174, 432.174 and even 1296.174 MHz. The cherry on the cake was a QSO with Stevie (GJ6WRI) on both 144 and 432 MHz, being active from Jersey Island. On 1296 MHz this was an FT8 QSO with Keith (GU6EFB) from Guernsey Island. A new DXCC entity for me on these bands. And he also uses LoTW so the QSO's are confirmed already.
Very rare was a Sporadic E opening. This can be seen almost yearly on 50 MHz but it's very, very rare on 144 MHz. On Saturday, december 28, a remarkable event took place. Just after 16.00 UTC a mid-winter Sporadic E event took place. F4EZJ (JN05) noticed OH1CP (KP10). After ringing alarm bells several QSO's were made using a scatter point around JO42.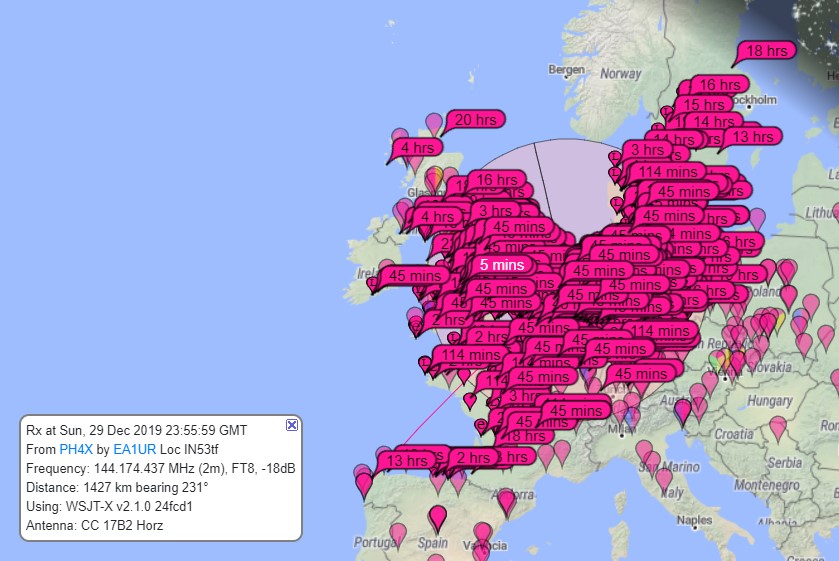 I personally tried to work more Maidenhead locators on 432 MHz, in particular with LoTW users since I'm busy achieving a 432 MHz VUCC certificate. I went from 25 to 42 confirmed locators via LoTW. On 1296 MHz I managed to work several stations to. ODX was F2CT in IN93 (1103 km) in SSB and also multiple stations in FT8. Unfortunately no EA stations on 1296 MHz.
During the tropo ducting new IARU Region 1 and even World distance records were set on 432 MHz. First there was a QSO between D41CV from Cape Verde with EI3KD over a distance of 4163 kilometers. This happened on Saturday, december 28 around 09.00 GMT. A few hours later, the record was broken, again by D41CV now in QSO with GM3SEK, good for 4544 kilometers distance. This record was set around 12.00 GMT.