Last week the new mast is lifted in the roof by a multi-crane who was working nearby. Thanks Peter! The old mast(parts) are gone and antennas removed. Now I have to find to remove the gravel on some places, put 33mm thick rubber mats and then we can lift the mast on the permanent place. This can me done with a pair of extra hands. I'm also abusing an old roof terminal with chimney which will be replaced by some 45° pipes connected to create a descent cable entry with 13cm diameter.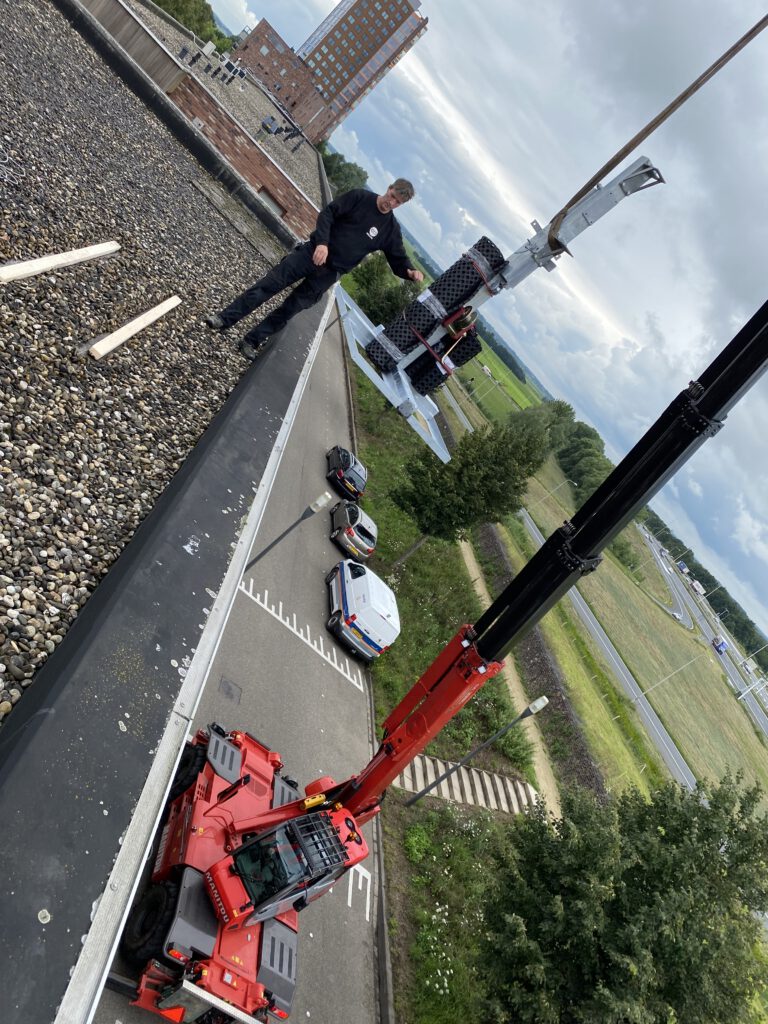 The weight of the base itself is calculates to keep the total weight below 84 kg/m2. But this includes 20 kg/m2 reservation for heavy snow. Since the roof is completely freestanding in all directions and the house build (half) on a dyke, there is a lot of gravel ballast on the roof of about 50-60 kg m/2 on the corners. So yes. The roof can handle the weight. The roof height is about 18 meters HAAT due the dyke that gives a few meters free height.
When the base is in place, there will be a 4 meter rotatable mast in it. The total height will come on 530cm. License free you're allowed to go up to 500cm and the roof has a 30cm standing border so it exactly fits the rules. The construction and drawings were, while not mandatory, calculated in advanced just to avoid hassle afterwards. The mast will hold a 50/70 MHz combi-beam, a 144 MHz beam and a 430 MHz beam like it did before. I'll reserve some space to make a stacked array to double this 144 and 430 antennas later to experiment. A separate mast holds the 120cm dish for 1296/2330 MHz and this will stay for now. It might be consolidated later.