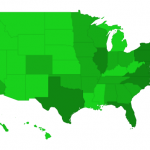 Yesterday evening I managed to work the last state to achieve the Worked All States Certificate: Wyoming. I had a JT65 QSO with Jackie, N7MJ on the 17-meters band.
He already confirmed the QSO via Logbook of the World (LoTW) so my certificate is requested. I only used a magnetic loop antenna.
The current WAS status can be seen top-right of my blog or colored via an interactive map on the certificate page. Next is to go for triple-play WAS, so I have 26 states to go in SSB and CW and 3 in DIGI.