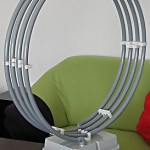 I like my I3VHF loop, like Wimo sells it as Baby loop. It has full coverage between 6,5 and 30 MHz and provides me with the 40, 30, 20, 17, 15, 12 and 10 meter band. I can work around the world in digimode (JT65) with it and there aren't many day's I can't work Japan or the States. Even worked Australia and New Zeeland with it. I'm only missing the 160 and 80 meter band.
I don't expect to go around the world with the new loop, sold as MLA-T and manufactured in BTV in Czech but it should give me lots of DXCC points throughout Europe and it would be great if it could go across the Atlantic to the United States, Canada and some Latin-America countries.
The antenna should arrive next week and tough the topbands season is over and we're awaiting the Sporadic E season to start, I'm curious about the results of this antenna. This is basically the only thing I can use since my garden is not that big. Meanwhile, this weekend is the time to build something for the 6-meter band. I already have a dipole and the Comet V-2000 vertical but want to try a delta-loop antenna and hope to catch less noise.